Earl Sacerdoti's Personal Pages
"Work like you don't need the money, love like you've never been hurt, and dance like nobody's watching."
Here's a random collection of personal items of, for, or about me.

Take a Vacation
We have a 3-bedroom condo available for rent at the beach in Aptos, near Santa Cruz, California.

About "Sacerdoti"
The name "Sacerdoti" is Italian in origin. It's an uncommon name in the US, and it seems it's rare in Italy as well. It's a recognizably Jewish name--Sacerdoti is the Italian word for priests. Like "Cohen," it's derived from the Hebrew "Cohan," which means priest. The Cohanim were the first Jewish priesthood, predating the institution of rabbis. By tradition, they are descended from Aaron, Moses' brother. A group of geneticicsts has recently published a study in Nature indicating that men who have been told they descend from the Cohanim (like me) share common genetic traits in portions of the Y chromosome. (In other words, they may actually be what they think they are!)

Family legend has it that the Sacerdoti migrated from Spain (where their name was presumably Sacerdote) during the Inquisition, and that they established themselves as tutors in the court of the Medici. Thanks to the existence of the world wide web, I've been contacted by Aude Sacerdot, from Paris, who may belong to a distant French branch of the family, by Jonathan Sacerdoti of London, by Dr. Michael G. Sacerdoti of Melbourne, and by Francesco M. Sacerdoti of Naples who works in machine vision and intelligent automation.

I've found a reference to a book by Giancarlo Sacerdoti, called Ricordi di un ebreo bolognese : illusioni e delusioni,1929-1945 (Bonacci, 1983). In English, that's Recollections of a Bologna Jew : Illusions and Delusions. If you can point me to a copy, please send me email.

Relatives, Near and Far
I'm married, with two sons, a daughter, a stepson, and a stepdaughter. My 100-year-old grandmother lives with us, too. Although I've been a user and developer of net technology since 1971, we aren't a very webbified family.

My son Tod is attending Stanford Business School while continuing to co-manage Delicious Karma, which promotes club events in San Francisco. My brother Guy and his son Roland are in Manila and accessible by email.

I've found F. David Sacerdoti, who's probably a distant relative, though we haven't established the linkage yet. He's a grad student at George Washington University. His Sacerdoti come from Milan, whereas mine come from Rome.

Where I've Been
I've had the opportunity to travel a good deal, and I enjoy it. I've been to most of the countries in Western Europe, to Russia and Georgia when they were part of the Soviet Union, to Australia, Japan, Taiwan, Hong Kong, Singapore, Indonesia, and The Philippines in the Pacific, to India, and to South Africa and Zimbabwe. I'm still looking forward to visiting Central and South America, and want to spend some time in Israel and Greece. I've also somehow missed the states of North and South Dakota and Oklahoma in my meanderings.

My Claim for the Guiness Book of World Records
The first business card with an email address?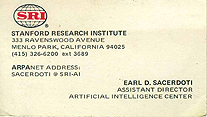 I have a business card from 1975 with an Internet address (of course, it was an ARPAnet address at the time) printed on it. I haven't been able to find anyone else with a business card older than that with a 'net address. Please send me email if you have one that's older. I was organizing a project at SRI to build software that queried multiple databases distributed around the ARPAnet. Because I was collaborating with folks in Boston, Washington, Los Angeles, and San Diego who were all also on the net, I found myself always jotting my email address on my cards. So when I was promoted and needed new cards, I asked to have my email address printed on them. SRI supported creativity, so they arranged it.
Ray Tomlinson of BBN released the first intercomputer email application in 1972, so there were about three years in which someone else could have produced such a card.

Dance, Creativity, Wholeness, and Fun
I spent a couple of years on staff with the Transformative Movement Workshop, which aims to integrate body, mind, spirit, and emotions through a focus on body movement. I'm certified to teach Tantra Yoga. I belong to the Swordplay fencing club in Concord, where I'm slowly learining to fence. I ski and swim depending on the season. And the core of my life is the network of relationships I have with my family and friends.
---
Return to the Copernican Group home page